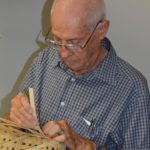 I like to work in our yard (three acres) but when the weather is BAD I need something to do other than play games on the computer.  A basket weaving workshop was offered in February of 2016 and instructor Rosie Huddleston suggested I take it.  My wife said YES!  After two years of learning, I am being challenged by more complicated patterns and color combinations.
I enjoy showing my basket display and demonstrating the use of tools used in basket weaving.  On the bottom of each basket I mark the date completed and the number.  I plan to be at number 100 by tour time!
My wife is letting me show my baskets and share her studio… on the porch….