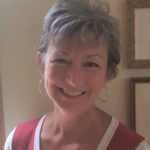 It is important for me to share a different perspective of everyday objects that are often overlooked.  I enjoy viewing things differently and taking the time to understand their value in this vast scheme of our planet.  It is my goal to help preserve history and illustrate life through photography.  What tactile representations are present?  What do you feel when you look at the images?  Do they remind you of another place and times?  Embrace these common threads that connect us.
In addition to photography, Deborah will have available for purchase her oil paintings, ceramics, knitting and other goodies.
Deborah resides in Caddo Valley, Arkansas with her husband, on their small ranch.  She retired in 2014 from a thirty-four-year career in the insurance industry.  She holds a degree in General Studies and a minor in Art, from Henderson State University, class of 2016.